At the time of writing we are at the tail end of a beautiful May weekend where temperatures have reached a lovely 25°C – it was nice while it lasted.
If you're lucky enough to have a swimming pool at your home then you were probably enjoying it, however few of you will have been able to experience something like the pools on show in this post. Below are the five of the most awesome swimming pools in existence, so grab your water wings and lilo and jump in…
Nemo 33, Belgium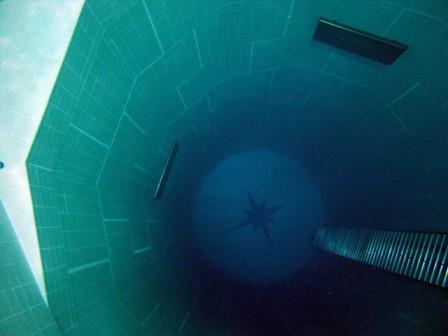 At 115ft deep this pool located in the Belgian capital Brussels is the deepest in the world, and contains 2.5 million litres of water. It is primarily used as a training pool for scuba diving, and includes several underwater 'caves'.
Nemo 33 is open to the public as well as professional divers, and is well worth a visit if you're interested in diving.
Tangga House, Singapore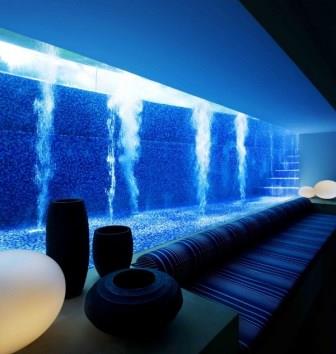 There's so much to find awe-inspiring about this property – the garden growing on the roof, the stunning architecture created by Guz Architects – but for us we just love the swimming pool that borders two sides of the house.
There's even a viewing room underneath the house with the pool providing a stunning feature to relax with.
The Aquarium Pool, The Golden Nugget, Last Vegas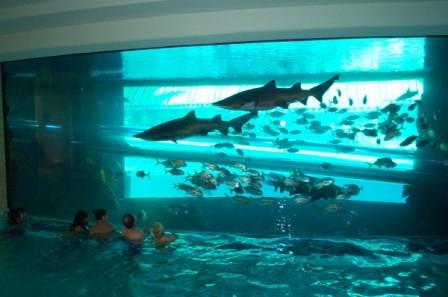 Providing you with the chance to swim with the fish, the Aquarium Pool located at the Golden Nugget Hotel and Casino in Las Vegas is a truly one of a kind experience. There is even a water slide in which you can watch the sharks swim by you at the same time!
232 West 15th Street, New York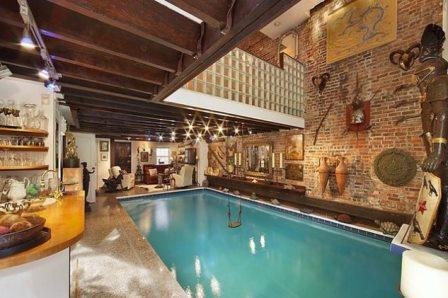 What's so special about a rectangular swimming pool that is 18ft long and 8ft deep? Well nothing, until you consider the fact that this swimming pool is in the living room of this historic townhouse on West 15th Street in New York.
Not to everyone's tastes perhaps, but then at least you can enjoy it all year round.
San Alfonso del Mar Seawater Pool, Chile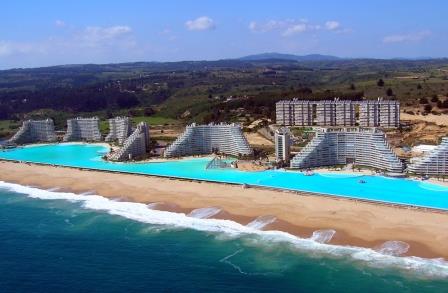 At over 3,300 feet long (over a kilometre in fact) the San Alfonso del Mar Seawater swimming pool on the coast of Chile is the largest in the world. In total the pool covers 20 acres of land and is home to 250 million litres of seawater. It's basically the sea, but without the hassle of waves. Oh yeah, and sharks.
This guest post was written by John Rooney in partnership with The Swimming Pool Store, stockists of a huge range of swimming pool accessories to help you get the most out of your pool.

You can follow any responses to this entry through the RSS 2.0 feed. Both comments and pings are currently closed.