FindaProperty.com has strengthened its position as the clear number 2 property website in the UK according to new independent data from comScore, the global leader in measuring the digital world.
The latest data, based on the number of unique visitors who go to each site, found a huge surge in unique visitors to FindaProperty.com fuelled by its TV, online, radio and print activity. Its 2.04m monthly visitors dwarfed the 1.64m visits received by Zoopla.co.uk in third place.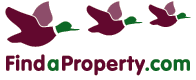 Sheraz Dar, Acting Group Marketing Director from FindaProperty.com, said:
"We pride ourselves on our status as a challenger brand and FindaProperty.com's position as number two in the market is an important part of this. We offer property hunters the chance to look at around three-quarters of a million properties at any one time and it's clear that demand for our site remains strong amongst home searchers. In January 2011 we broke all-time records for site traffic which is testament to the popularity of the FindaProperty.com brand2."
Dar continues:
"ComScore's data is considered to be the most robust and trustworthy monitor of web traffic in the industry, so for them to rank us consistently as the second biggest player in the market is crucial validation."
Colin Burrows, Account Manager, Comscore says:
"We deliver one of the highest quality, most comprehensive views of internet browsing, buying and other activity in the digital environment. This is achieved by using the largest, continuously measured consumer panel of its kind, combined with a unique census level data collection method"
You can follow any responses to this entry through the RSS 2.0 feed. Both comments and pings are currently closed.