You will have heard about Energy Performance Certificates (EPCs) and the full roll out that finished on the 1st October. Anyone involved in domestic or non domestic property will come across them in some capacity. However, in amongst all the legislation in the regulations there is another requirement that may take some by surprise.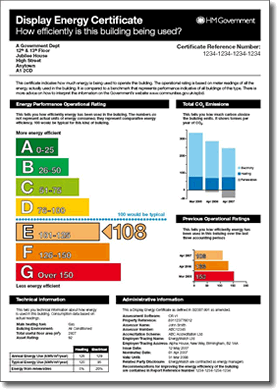 Commercial Energy Assessors, the numbers of people qualified to produce DECs are currently still low, but as more come on stream the requirements will start to be fully enforced. The communities and local Government (CLG) have produced a helpful guide to Display Energy Certificates and advisory reports for public buildings here.
So in short, if you are involved in public buildings of any description be aware of the DEC, your requirements and your responsibilities. Don't get caught out. If you have any queries and questions you should seek expert advice.
Written by Symon Silvester Godwin & Ellis Associates.
You can follow any responses to this entry through the RSS 2.0 feed. Both comments and pings are currently closed.