The Energy Performance Certificate (EPC) makes recommendations and this is becoming more widely familiar as the EPBD legislation is becoming further understood and implemented. HIP-Consultant.co.uk welcomes the national EPC awareness campaign that is currently running and feel this can only help promote the significance and importance of the Energy Performance Certificate (EPC).
Once the Domestic Energy Assessment has taken place and the Energy Performance Certificate has been issued, for example within the Home Information Pack (HIP); the EPC recommendations are being looked at by the new owners of the related property and are increasingly making improvements based upon this section of the EPC.
Please click image to enlarge.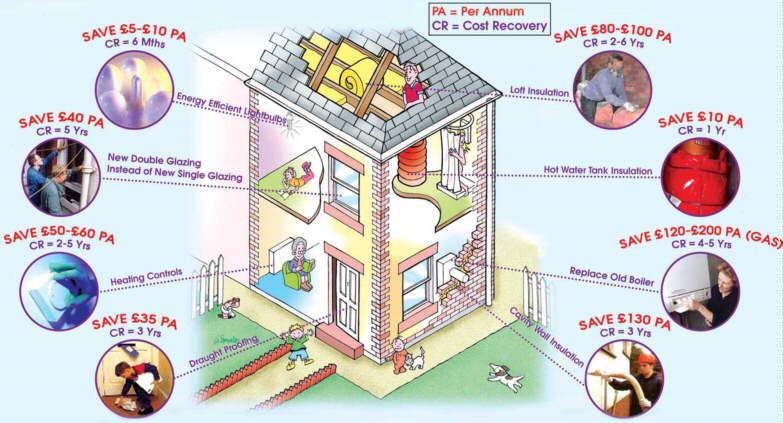 Stop the press !!! There is financial help available if you're planning to make energy saving improvements to your home. They are now more widespread than before and apply to most peoples' circumstances to some degree. These financial incentives are being offered by various parties including the Government, energy suppliers and local authorities. The grants available are for assistance in implementing energy saving measures in your home.
Not all grants are available in all areas though they can include help with the following:
Loft insulation and draught proofing
Radiator Panels
The energy saving trust offer a useful tool to help search for energy saving grants in your area. However, If you would prefer to talk to an Energy Saving Trust advisor in your area, freephone 0800 512 012.
The Energy Peformance Certificate highlights which improvements will have what benefit to your homes' energy efficiency and approximated cost savings.
HIP-Consultant.co.uk provide comprehensive Home Information Packs and Energy Performance Certificates services. The Energy Performance Certificate (EPC) can be undertaken without selling your home if you choose and can be a useful tool in reducing your energy consumption and bills.
You can follow any responses to this entry through the RSS 2.0 feed. Both comments and pings are currently closed.