House prices were 10.1% higher in April 2010 than in April 2009, gaining 0.4% during March 2010 alone.
The new figures released from the Department for Communities and Local Government (DCLG)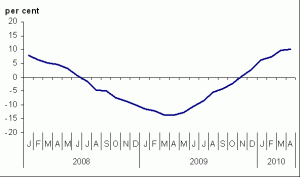 calculate the average price of a UK home at £207,516, factoring a 0.9% increase over the three months to the end of April.
On a yearly basis, the average value of a house rose 10.9% in England, 11.3% in Wales and  1.1% in Scotland with Northern Ireland remaining in negative figures at – 8.9%.
However, the quarterly increase was well below the 4.8% recorded in the previous three-month period and indicates the rate of price rises slowing.
Unsurprisingly, London remained the area with the highest average house price in April 2010, at £332,677, and the North East with the cheapest average house price at £139,595. Due to a large number of public sector jobs in the North-East there are fears that prices may come under further pressure as the cuts are implemented.
Annual growth in house prices were reported at 12.2% for the typical first-time buyer, compared to 12.6% in March 2010 with the average price of £153,803 being paid by those gaining a foot in the property market in April 2010.
With these figures, the financial uncertainity and news expected later today on a potential cap on mortgage lending it does raise speculation that the property market maybe heading for a double dip. Where do you think house prices will be in 12 months from now?
Photo by blech
You can follow any responses to this entry through the RSS 2.0 feed. Both comments and pings are currently closed.