I think it's fair to say that we've all been hit by the credit crunch in some way or other, if you haven't, lucky you. What seems to have taken the biggest loss is the value of our humble abodes; the press would have us believe that property prices are falling at a staggering rate, so where does that leave the home owners that are still desperate to sell. Its dog eat dog, so how do we add value and make our homes more appealing without it costing us the earth.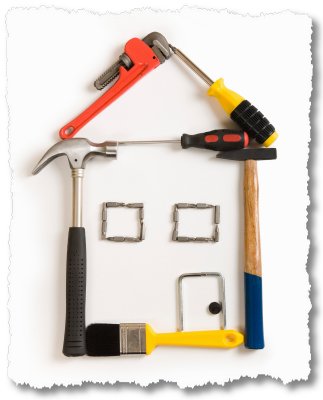 First impressions are of paramount importance so if the front of your house is looking a little worse for wear it's maybe time to update and refresh. Start with the front door, if it needs a lick of paint get the brush out, if not, hot soapy water and some elbow grease should do the trick. Pull out any unsightly weeds, sweep the path, mow the lawn, check the security light works and if the pocket can stretch get some planters to brighten the place up.
Off Street parking, if you have it great, if not, can you create it? It's fair to say that most households have at least one car and rightly or wrongly we all want somewhere to park it other than the street. It may be worth sacrificing the font garden or back yard to give that added value that may put you ahead of the competition.
How's the paintwork looking, if it's tired and lifeless it's maybe in need of a freshen up? With minimal costs incurred and a weekend spent plying friends and family with food and drink you could have overhauled the place, spent very little but improved the look.
With very little cash in circulation at the moment, home buyers want places that require little work so take a look at your flooring and decide whether it could deter a serious buyer. The key rooms to consider are probably the biggest unfortunately. Take a look at your front room, step back and decide honestly whether someone could move their sofa in, if not, would a professional clean do the trick or is it time to replace.
One of the first things we look for when house hunting is the amount of storage space a property has, we all hang in to things that we think we will use at a later date and if you're anything like me we offer to store things for other people. Well now is the time to de-clutter and it's a process that has no room for sentiment.
These are simple suggestions and maybe not be the miracle cure to shifting your house but could make the difference. If your house is on the market, your first port of call for advice should always be your agent, if you've had people out to view get some feedback, it may not be what you want to hear but take it on the chin and make them crucial changes.
You can follow any responses to this entry through the RSS 2.0 feed. Both comments and pings are currently closed.