Changing the flooring in the home can really help to transform the space. However, with so many different types of flooring available today, it can be difficult knowing which type to invest in.
We have teamed up with Lifestyle Flooring UK to look at the different types of flooring available and how to choose the right one for your living space.
Solid wood flooring
One of the most popular flooring options, solid wood provides an elegant, high-end design. Available in a wide variety of types, these types of floors are typically glued or nailed down for a secure fit.
They typically come with an oiled or lacquered finish, enhancing their durability. You'll also find you have a variety of different species to choose from such as oak, maple, walnut and cherry. While there are a lot of different types of floors which produce a wooden effect, you just can't beat the aesthetics of the real thing.
Advantages
There are a number of advantages of choosing real wood flooring. The aesthetics are one of the main ones, guaranteeing a luxurious and sumptuous finish. These types of floors are also really durable, with many capable of being refinished multiple times to maintain that new look.
You'll also find solid wood flooring is fairly easy to keep clean. This is especially true if they've been coated with a tough lacquer or oil surface.
Disadvantages
It's important to take into account the disadvantages of solid wood before installing it in the home. One of the main cons of this type of flooring is that it does warp when exposed to variations in temperature and moisture. This makes it unsuitable for use in areas such as the kitchen and bathroom.
It is also one of the more expensive types of flooring on the market. It doesn't stand up as well against scratches and ear and tear as engineered or luxury vinyl flooring for example. This means you'll need to re-finish them more frequently than you would with other flooring types. They also aren't suitable for use with underfloor heating.
Finally, not all solid wood floors are manufactured in a sustainable way. So, if eco-friendly flooring is high on your list of priorities, solid wood may not be the best option.
Best for
Solid wood floors are best for:
Low traffic areas
Lounge and dining rooms
Homes without pets or children
Engineered wood flooring
If you want the real wood effect without the expense, engineered wood flooring is the next best thing. Featuring a real wood top layer, these floors are constructed to be much sturdier than solid wood.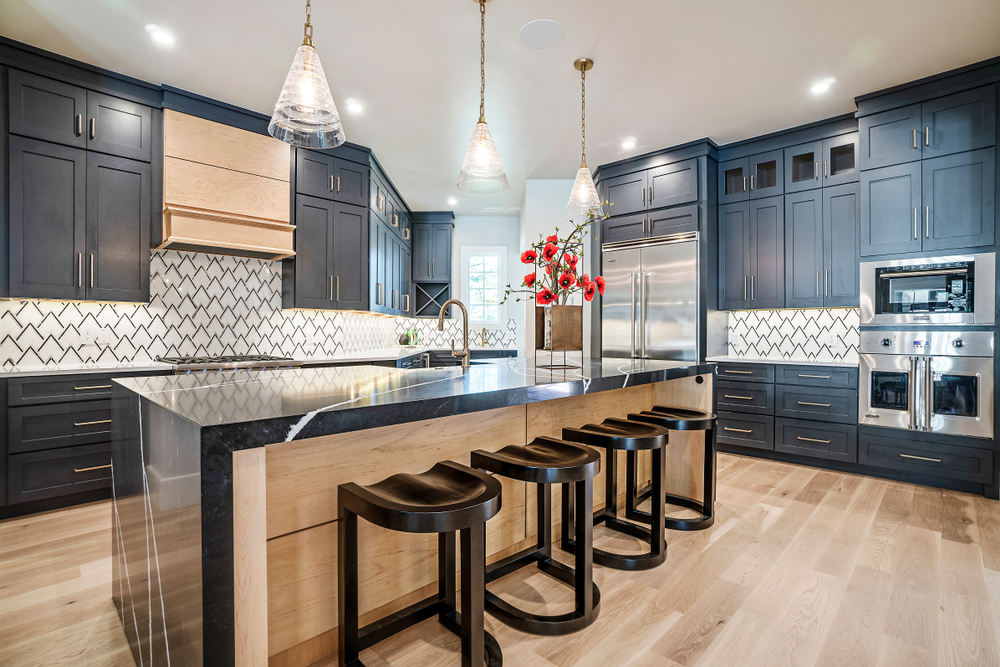 The middle and lower layers are typically constructed of PDF, a more affordable material than solid wood. This also means they are less likely to warp when exposed to temperature and moisture changes.
You'll find hundreds of different designs on offer. The installation method is often easier than real wood flooring too, thanks to the tongue and groove system commonly used. These systems enable you to slot the planks together without nails or adhesive. You can even find some click-system engineered wood floors. These are even easier to install, even for those with no prior experience.
Advantages
The main advantages of engineered wood floors include affordability, durability and luxury designs. The fact they last for many years to come, makes them a great value investment. You won't need to re-finish them often, with every 15-20 years typically proving enough to keep them looking new.
Engineered wood floors provide the exact same aesthetic benefits as real wood, without the heavy maintenance. As they don't warp in the same way as solid wood, they can also be installed in more areas of the home. Many are even compatible with underfloor heating, enhancing their comfort in the colder weather.
As an additional benefit, engineered floors only use real wood within their top layer. This means fewer trees need to be chopped to create them. So, compared to solid wood floors, these ones are much better for the environment.
Disadvantages
Like all types of flooring, engineered wood floors do have some disadvantages to be aware of. While they can be more durable than solid wood, they are still prone to scratches and dents. You can minimise the risk of this by paying attention to the finish of the floor. Some come with much tougher lacquer or oiled surfaces, better protecting them against wear and tear.
You are still somewhat restricted by where you can install them too. While they are more moisture resistant than solid wood, it is still recommended you avoid installing them in the bathroom or kitchen.
Best for
Engineered wood floors are best for:
Those seeking a real wood effect at a lower price tag
Underfloor heating
Homes with pets and children (compared to solid wood)
Laminate flooring
Laminate flooring has come a long way over the years. These days, you'll find a wide range of types available and they are designed to a much better standard than they once were.
These floors are constructed much in the same way as engineered wood. However, they have a much thinner top layer and it isn't made from real wood. Instead, the top layer is a photo layer, producing a realistic wooden effect.
Advantages
Laminate floors have a lot of advantages over engineered or solid wood. They are much easier to install and maintain. Most come with easy to use click systems, and they don't come with the same risks as real wooden flooring. This means they are generally better protected against daily wear and tear.
You'll also find laminate floors are available in a wide range of designs. As well as realistic wooden effects, you can find laminate floors which boast a real stone effect too.
Disadvantages
There are a few disadvantages to laminate flooring to be aware of. The first is that they can become quite slippery. However, you can combat this by making sure you invest in a laminate floor with a textured surface for better grip.
Another disadvantage is lifespan. While you can invest in laminate floors which last for many years to come, out of all of the different types of flooring on offer, they have the lowest lifespan.
Best for
Laminate floors are best for:
High traffic areas
Bathrooms if investing in waterproof laminate
Those on a budget
Luxury vinyl
Last but certainly not least, luxury vinyl flooring is one of the most popular choices for homes and businesses. Compared to standard vinyl, it boasts a design which is closer to laminate flooring.
With a soft feel underfoot, this is one of the more durable types of flooring on the market. It is often waterproof, or at least water resistant, making it suitable for all areas. There are different types on offer, including cushioned vinyl flooring and sound reducing flooring.
Advantages
You'll find luxury vinyl floors come with a lot of great advantages. Their affordability and huge choice of designs are two of the main ones. Out of all of the different flooring types listed, luxury vinyl floors are the cheapest. They are also designed to look exactly like real wood or stone, providing luxury designs at a budget-friendly cost.
The durability of these floors is also fantastic. You'll find with minimum maintenance these floors will last for over a decade. They are also really easy to install, with most supplied with a click system which everyone will find easy to use. They can be safely used with underfloor heating and many are naturally water-resistant.
Disadvantages
Although luxury vinyl flooring is considered one of the best options for the home, it does come with some disadvantages. For example, not all vinyl floors are created equal. So, you will find some which look really fake and flimsy. To avoid this, make sure you're choosing a company which offers only the best luxury vinyl floors.
Best for
Every room, including bathrooms
Budget-friendly
Easy installation and maintenance
As you can see, there are a lot of flooring options available. Each has its own pros and cons and it is important to take these into account. The above are just some of the things to consider when you're looking for a new floor.
You can follow any responses to this entry through the RSS 2.0 feed. Both comments and pings are currently closed.