We would like to take the opportunity to thank all our past Home Information Pack clients. It has been rewarding helping you to speedier transaction times, smoother exchanges, … STOP IT,  its gone.
Of course we intensely disagree with these actions as they could possibly destroy our business and feel it is a backward step. However, we intend to dust ourselves down, re-group and go on to fight another day.
We will continue to provide the EPC when required and have launched a new website Housing Energy Advisor which we are excited about and will hopefully help give us some focus and divert the pain. We have some other exciting plans we look forward to telling you about in due course, so watch this space.
For the time being; in an attempt to raise a smile, some would say gallows humour we are running a caption competition on a photograph from the day they scrapped HIPs.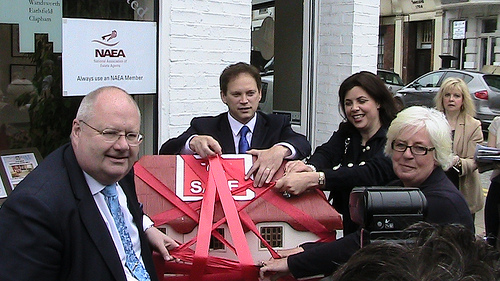 Photo credits – Communities & Local Governement
Prizes – We will be contacting Kirsty Allsopp today to see if she has any nic nacs from Meadowgate she would like to donate as prizes for winning entries.
Please leave your entry for the caption competition in the comments box below.
Please note : Please keep the comments suitable and appropriate as we will be unable to publish any that are offensive and not 'family friendly.
You can follow any responses to this entry through the RSS 2.0 feed. Both comments and pings are currently closed.