We received an email today from a client telling us about the impact the Energy Performance Certificate (EPC) had on their energy consumption and lifestyle.
The client had a domestic energy assessment carried out on their property as part of the Home Information Pack (HIP) process and to cut a long story short decided to take the house off the market and make improvements; some of which were detailed within the Energy Performance Certificate (EPC).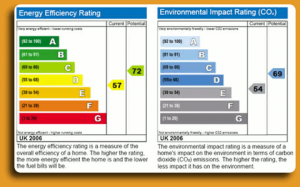 We try and provide resources and information as an addition to undertaking the energy assessment which the client had used. The lady had accessed grants available in her area for both cavity wall insulation and loft insulation. I must add at this point that these can now be applied for by most people whatever your circumstances. There are further details within our main site.
The lady went on to tell me that she had seen and I quote, "significant reduction in her gas and electric usage…" since having these improvements made. Further to this she wrote about how receiving the energy performance certificate (EPC) had instigated her to look at other areas of her lifestyle in terms of recycling and other simple measures she could implement.
How fantastic that this event and ultimately the Energy Performance of Building Regulations (EPBD) legislation had helped the lady make positive changes in her lifestyle and reduction in her CO2 emmisions. I can only hope that this continues to happen with both clients served and future clients.
We receive testimonials and thanks from clients, which is always great though this email was particularly well recieved and made our day.
You can follow any responses to this entry through the RSS 2.0 feed. Both comments and pings are currently closed.