Are you in the preparatory stages of a new build? Maybe you're ready to bring in an electrical contractor but are worried about how they'll fare coming up against Part L of the Building Regs? In this article, I'll be covering how to choose an electrical contractor for a new build that will be required to pass an air permeability test.
What is Part L
In 2006 the government passed Part L of the Building Regs setting the standards for air permeability in certain new builds and extensions in the UK. The Regulation is concerned with the conservation of fuel and power through limiting heat gains and losses via the building's fabric. Split into 4 parts the documents lay out guidelines for both new and existing buildings.

Air Permeability
A building's air tightness or air permeability rating is a measure of the uncontrolled flow of air through gaps and cracks in the fabric of the building. Air Permeability testing plays a vital role in determining the energy efficiency of a building. At the end of the building process your building will need to pass and Air Permeability test.
Air Permeability test
At the conclusion of each build that is covered by Part L, the building must pass an air permeability test before it can be signed over. The air permeability rating is arrived at by dividing the amount of uncontrolled air leakage recorded over the total envelope area of the property. To pass an air leakage test, a dwelling must achieve an air permeability result of 10 m3 /(h.m2 ).
What has this to do with electrical contractors?
Gone are the days of each service contractor 'getting in, getting it done and getting out'. With the passing of Part L of the Building Regs, constructing a successful build that will pass an Air Permeability test means there needs to be a proper collaboration between all trades. Arguably, the trade that has more interaction with Part L during its duties is electrical contracting.
Electrical Contractors vs Air Permeability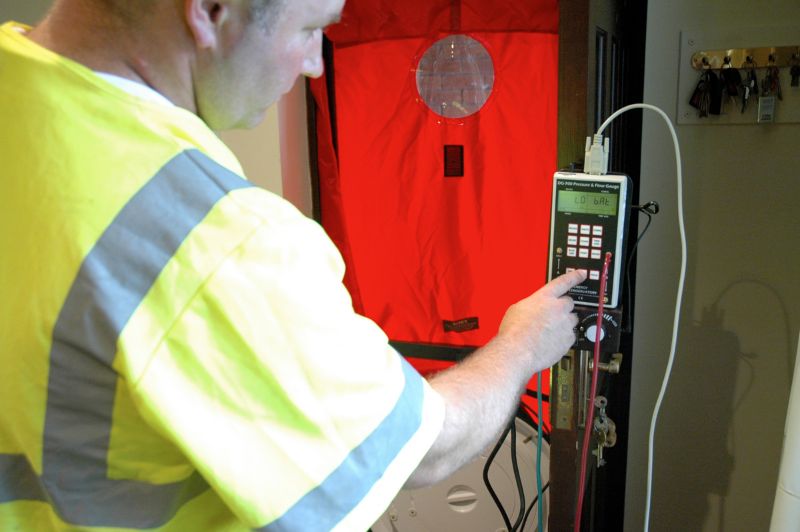 The electrical work of all new builds effects every room and space of the property. It's because of this, and due to the fact that electrical contractors must penetrate walls for their pipe and cable work, that their work can have a huge consequence on a build's airtightness. When choosing an electrical contractor for your build you need to be sure that they are familiar with Part L of the Regs and are experienced in maintaining the demanded standards.
4 things you can do
When choosing electrical contractors try and avoid cowboys at all costs, checking through the company's website should give you plenty of answers. Look for contractors who display all the accreditations you would expect to see for an approved and reliable installer.
Use an electrical contractor that has experience working on new builds under the latest regulations.
Keep ahead of things. Ask questions and regularly inspect work that has been carried out. If you're unsure about something, or feel that a portion of work may affect the Air Permeability test, then enquire about it.
Don't cut corners. Budget is very important, but cutting corners in order to save a few quid on materials or making good a penetration, could come back to haunt you. The cost of remedying a building that has failed the Air Permeability test can be significant.
Things to know and verify
If your electrical team needs to penetrate the envelope of the building have them discuss it with your builders. Make sure that once they have brought in their cables that the breach is made good and is air tight.
All sockets, switches and light fittings need to be tightly fitted and secured.
Consumer/fuse boxes. As the consumer unit is kept out of sight and often conceals the entrance of the main incoming cables, it is important that you carefully verify its installation.
Electrical sockets, switches or fittings should never be temporarily sealed prior to the Air Permeability test. Any build found using such sealants will be instantly failed.
Downlights may be designed to draw in air and must never be temporarily sealed for an air test.
Commercial Builds
If your new build is a non-dwelling property that will be used for commercial purposes then extra attention must be taken concerning all pipework that penetrates the building's envelope and leads into plant and electrical switch rooms. In these larger builds, poorly sealed pipework can collectively account for a lot of leakage.
Roller Shutter Doors: although roller doors are regulated by British Standards concerning their air permeability, their installation still needs to be closely monitored as they pose more air leakage problems than conventional door types. Always ensure the company fitting your roller door is familiar with working on new builds that will be tested for air permeability.
How to ensure the AP test is passed first time
Although your electrical contractor has an important role to play in helping your new build pass the Air Permeability test, the electrical work is just one of many elements. Passing the test will be the result of careful planning from the outset coupled with good building practices and the correct choice of a contractor. Below is a list of things that must be considered if your building is to pass first time:
Make certain there are no gaps around:
Doors, frames, windows and sills
Pipes and cables
Loft hatches
Extraction units
Ceiling and wall joints at the eaves
Electrical sockets and fittings. All incoming cables
The porosity of all exposed mid density breeze block can be greatly improved with a coat of sealant or even thick paint.
On test day
Being properly prepared for test day cannot be underestimated. Check for the following before commencing with the test:
Surfaces (floors, walls, ceilings) must be complete with no voids or gaps
All trickle vents must be closed
Skirting boards need to be correctly sealed
All light and power fittings are properly fitted
Is a failed test the end?
A failed test is obviously not the end of your build, but it may be the start of a whole new series of problems. The first will be pin-pointing the problem and discovering which contractor's work (if any) is responsible for it. This can be a time-consuming and energetic process and you may be looking for one more than one point of vulnerability. This is precisely why you need to keep a constant eye on the construction process.
Summary
Good preparation and design. This begins with the architects and the planning stages.
Choose a tried and trusted electrical contractor that has a proven history of working on new builds and providing work that complies with Part L Regulations.
Show an active interest. It's your build and the expense of a failed test will fall on your shoulders. Remain vigilant without imposing your presence on your contractors. If you come across work you feel may pose a problem… Ask!
Prepare for test day. Good preparation can often be the difference between success and failure.
You can follow any responses to this entry through the RSS 2.0 feed. Both comments and pings are currently closed.