With the recession still in full swing many people are struggling to get onto the property ladder. People across the UK have found that they simply cannot afford to invest in the property market at the moment, yet, of course, they still need somewhere to live. So what is the answer? Simple, more and more people are choosing to rent properties instead of buying.
A recent survey, carried out by the Association of Residential Letting Agents, has shown that, this year, 74% of landlords have had a higher number of prospective tenants than actual houses in which to place them. One may assume that this can be attributed to young professionals needing somewhere to live, however it turns out that, according to Debbie Vowles, of Andrews letting agents in Bristol, three or four bedroom family properties are "flying off the shelf".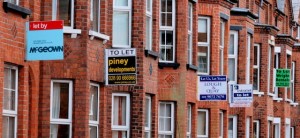 Therefore, it would seem that it is a great time for landlords across the UK. They certainly do not have a shortage of would-be tenants! However, if you are thinking of becoming a landlord then you must be prepared for all circumstances. Many first time landlords fall into the trap of believing they will make huge profits with little to no effort. This would indeed be a naive attitude to take, and instead it would be wise to plan for the unexpected, and to prepare for any unfortunate situations that may arise.
Becoming a landlord can be an extremely fulfilling and exciting venture, and provided you choose your tenants carefully, write up a detailed contract, invest in insurance, and maintain your property to a high standard, then life as a landlord can indeed by rosy.
However, it will still be very likely that you will encounter problems. The most common problem landlords are faced with is tenants withholding rent payments. Other problems can be theft, or attempted theft, and accidental or malicious damages, to name but a few. All of which can be a tiresome and stressful ordeal for landlords, not to mention a waste of valuable time that can be spent expanding a property portfolio.
Nevertheless, there is a quick and easy solution. With Landlords Insurance you will be able to protect yourself against a whole range of potential problems. This will not only minimise the risk you are taking with your property, but it will also ease your mind and enable you to relax and enjoy life as a landlord.
Furthermore, it will be important to consider a practical, but competitive, pricing strategy. When thinking about how much rent to charge, it is crucial that you ensure you are able to cover all your costs, while still making a profit. At the end of the day, if you are not making a profit, then what is the point?  It is important to stress the use of the word "competitive" here. You do not want to place the level of rent too high as you will then risk pricing yourself out of the market. Instead you must carefully consider all the costs you will incur, such as insurance premiums, agency fees, and maintenance costs, amongst others.
On the whole, renting out your property can be very enjoyable and very profitable, provided you tick all the boxes outlined above. Make sure you are covered by insurance, choose your potential tenants carefully, and maintain a friendly working relationship with them. Your experience as a landlord will then be profitable, and you will therefore reap the rewards, and life will be, as mentioned previously, rosy.
You can follow any responses to this entry through the RSS 2.0 feed. Both comments and pings are currently closed.