Landlords and managing agents are now acting on the EPC requirements of the EPBD legislation ahead of the 1st October. We recently posted about Landlords EPC requirements and wanted to add further information in regard to what counts as marketing a property and what certain scenarios require.
As of the 1st October 2008; when as is usual a letting agent managing agent or landlord produces details for marketing purposes of the property which is being offered for rent it will often consist of information including: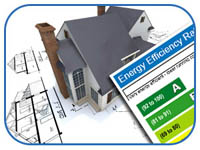 Photographs
Floor Plans
Dimensions
When 2 of 3 of the above are included within the property details the Energy Performance Cerificate must have been produced and the EPC graph should be added to these details. There are no exceptions as there is at present with Home Information Pack first day of marketing exception.
However, if only one of the above are included within the marketing material of the property for rent; then the EPC graph does not have to be included within the details nor does the Energy Performance Certificate need to have been produced by a domestic energy assessor.
As soon as a viewing is a arranged with a prospective tenant the Energy Performance Certificate (EPC) must be in place before the viewing can take place, regardless of what is contained within the marketing material.
The last point is that before contracts are signed the EPC must have been produced. This includes, if for example the marketing material only contained a brief description, no photos, no dimensions etc and no viewing was required.
Please see our EPC FAQ pages for Landlords and managing agents for further infomration. HM government has also produced a useful guide which can be found here.
You can follow any responses to this entry through the RSS 2.0 feed. Both comments and pings are currently closed.